The machinery inside of SIMO Srl They differ for each type of industrial processing.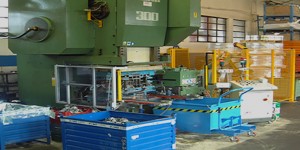 Press ROSS T 300
Double column machining operations to be used for both recovery and to work automatically for large series.
Technical features:
hydraulic security adjustable;
race min. 12 max 220;

moto- variator copli 60 min.20 max / min;

stripper hydropneumatic power stroke 115 50T;

plan 1500x900.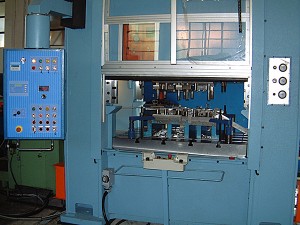 Mechanical press SAN GIACOMO T 250
Double column used for both processes to be resumed in the molding bending, shearing, sheet metal steel , iron, aluminum and titanium, and in processes for large automatically batches.
Technical features::
250 mm stroke;

1500x1000 plan;

equipped with inverter min.20 max 70 strokes / min.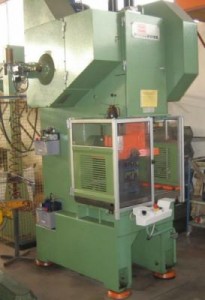 Mechanical press ROSS T 50, T 60, T 120 e T 160
In our fleet there are also mechanical presses for machining of sheet metal stamping, shearing and bending, from the manual.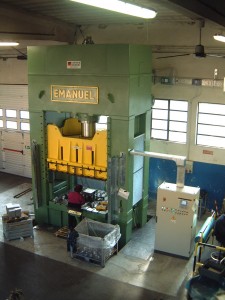 Hydraulic press T.500
Machinery dedicated to drawing and deep drawing.
Technical features:
2-post hydraulic press T.500 electronically controlled;

2000x1600 plan;

ram stroke mm.1150;

light between the boards at TDC mm.1600;

stripper T.200;

race mm.400.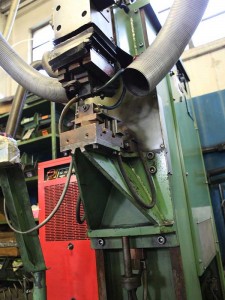 The welder TECNA 100 KVA and the welder 50 KVA, 45 KVA and 30 KVA 
The welders are used for projection welding of bolts and nuts screws for the ' assembly of metal components with each other.
Technical features::
vertical descent;

programmable electronic control;

software management and real-time control of parameters;

prints the data collected during the processes, with notification of any non-compliance.
The welding machine discharge capacitor is used for the application of nuts and bolts, bushings and screws without borehole on particular iron, stainless steel and also details that must comply with quality standards such as aesthetic, hoods ..
We also have a new vertical machining center CNC AERRE CL 40 80 machining.